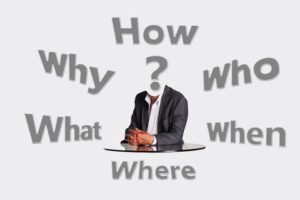 How is work ? What are your plans for future ? What's up this weekend ? – Uff, it seems like we are bombarded with questions at every step we take.
You are expected to have an answer for every question. But some questions do not have direct answers. Questions are not binary codes which can be made up of 0's and 1's. There are infinite numbers and so is the possibility of infinite answers to the same question.
What may be a correct choice for you might not suit me. So stop asking why, what, how every time. Sometimes its good to not have an answer. You might be expecting to hear what you want but reality may be far from it. Rather you might get offended or hurt at what you hear.
At times the best thing is to just let go. Do not probe or try to find answers. There are situations in life when you don't know what to do. You run after them to find correct answers. Maybe you are not meant to find an answer.
By no means am I saying that you should run away from difficult situations. Rather, it might be good to sit tight and watch how things play out. Maybe you will get an answer then or may be not. Does it really matter?
Are you sure you want to find answers to every question that you face? I certainly do not want it. Sometimes its easier to let go. Take a step back, think from a different perspective and may be then you will find your answer. Even better option would be to talk to someone close, whom you trust. Maybe they can help you untangle the mystery.
Have you ever faced a situation when you did not know what to do? How did you cope up with it? Do share your thoughts with us.
Note- *This article is written as a part of #SuperBloggerChallenge2018 conducted by Healthwealthbridge.com ,Fashionablefoodz.com, Allaboutthewoman.com and should not be re purposed, republished or used otherwise. The content herein is owned by the blogger. SuperBloggerChallenge2018 is not responsible for any kind of infringement caused*