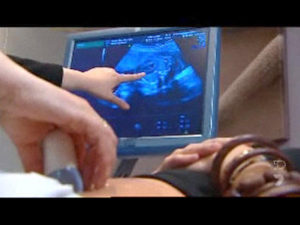 Natasha was numb, she was already scared for Ananth and now her child's life was in danger. She was trying her best to stay positive, but the extent of events was taking a toll on her. A week back she was living her dream and now the life has come to a standstill.
The doctor was checking fetal heartbeat with Doppler,'Natasha take deep breaths, you need to relax.'
'Fetal heart rate is strong at 148. We will be performing an ultrasound to be on safer side.'
'Okay, do all that you need to. The baby should be fine.', replied Natasha.
'The baby is developing distinct facial features and seems to be doing fine. As I have said earlier the heartbeat is strong and you can hear for yourself.', confirmed the doctor.
No other sound was as melodious as her child's heartbeat for Natasha. The doctor had decided to monitor her health for coming 12 hours and advised her bed rest for next two weeks.
Their parents were worried, as three lives were at stake. They were prepared for worst. The night was the longest one. None had slept.
Natasha wanted to be with Ananth, his words could calm her. Her thoughts were scary and she had nightmares about losing her child. She wanted to hear from Ananth that everything would be all right, but today he was fighting his own battle.
After the night full of agony, doctor declared that all was well and discharged her. Ananth's doctor also gave him a go ahead to be released from hospital.
By evening they were both at home with an eerie silence around them. They were facing an uncertain future where juggling life continues.
——-—- To be Contd.————–
I am participating in #AtoZChallenge and this is the tenth part of 26 chapter series that I will be writing this month. You can read my theme reveal here. Tune in tomorrow to read what future holds for them.
Do share your thoughts about this post. Did you like what you read & would like to read further? Looking forward to your thoughts. Happy A2Zing!