It has been four weeks since her last labor pain scare in office, but there was no sign of the actual labor till now. Natasha had taken break from her work but she was getting bored of all the waiting. She had packed her hospital bag and was set to go any day, anytime. But, doctors were only telling her to wait and watch.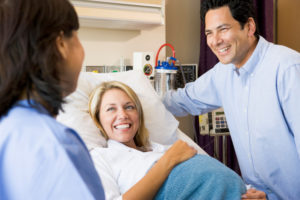 15 October,2015
Natasha and Ananth were having breakfast when Natasha spoke, 'I think my water broke'.
'Are you sure?',asked a confused Ananth.
'Ananth, Do I look like I would joke about something like this?', Natasha replied with an angry look.
'Oh yes, you are right. We need to rush to the hospital. Let me get the car keys', Ananth realized the seriousness of the situation when he looked closely at Natasha.
'And do not forget the bag'
'Which bag?'
'My packed bag for the hospital!', Natasha replied with an agitated tone.
'Yes, yes I will take that.', murmured Ananth.
The car ride to the hospital was uneventful except the number of times Natasha scolded Ananth for either driving too fast or too slow. They reached hospital in record time and Natasha was wheeled into the room. Her doctor was called up and in the meantime routine checkup was performed.
'Your water has broken but the baby is still not ready to come out yet. We need to wait for some time more.', doctor explained to them after they had waited for two hours.
'But, for how long? I want epidural now. I am tired and in labor pain.'
'Natasha, its the pain talking. You did not want to take anything for the labor pain earlier. Are you sure now?', asked her doctor.
'Ah, stupid me. I will wait before take epidural.'
'Nats, you don't need…', Ananth tried to convince her.
'Some more time Ananth, baby will be here soon.I can wait. You and me will be real parents soon.', and they waited.
——–To be contd.——–
I am participating in #AtoZChallenge and this is twenty-fourth part of the series that I will be writing this month. You can read my theme reveal here. Tune in tomorrow to read what future holds for them.
Do share your thoughts about this post. Did you like what you read & would like to read further? Looking forward to your thoughts. Happy A2Zing!