Book Name: Of Swans and Songs
Author Name: Rohini Paranjpe Sathe
Format available: E-book & Paperback
Pages: 358
Language: English
Review of the book
The book "Of Swans and Songs" by Rohini Paranjpe Sathe is a collection of seven short stories. The stories take you through the bittersweet emotions of life. Each short story brings to life the characters in the book. The stories are setup in the Indian background & are easy to relate. The language is simple and words flow easily. Each story has something special to captivate your thoughts.
When the Girl Died shows us the harsh truth of our society & how each one reacts to it differently. The story is about the turmoil in life of Mathur's family when confronted with the news of a rape.
In The Messenger speaks about the emotions we feel when a loved one passes away. We continue to feel them around us & watching us. The reality makes you wonder!
Anuja Grows Up is the story of family secrets. How does Anuja react when she learns about the past about her family? The generation clashes are not unknown to us all. Does Anuja & her family survive these clashes & emerge together as family or not? This story amongst my favorite from the collection.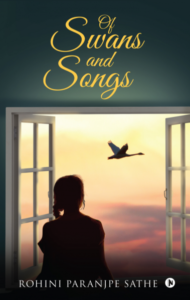 In Amma, the author celebrates the life of renowned classical singer and her relationship with her prodigy. If you are a music lover, you would fall in love with the life of Amma portrayed by her biographer.
Finding Shobha is a tale of tuition teacher's tryst with the rapidly changing life events. The story tells of how she deals with her fluctuating mood and comes to term with it. As a woman I relate to it and can reread it multiple times.
Of Swans and Songs, is aptly named title story & is the story of an extramarital affair that breaks a surgeon's family. Like in reality the story takes you through the chaos that ensues after the affair & the efforts to establish peace.
A Happy Diwali, makes you nostalgic and takes you to down the memory lanes of Diwali celebrations. The family bonds and the drama keep the readers occupied.
Author Rohini Paranjpe Sathe trained to be an economist, but her first love Hindustani classical music took priority over other things. She turned to writing few years back & with debut book "Of Swans & Songs" she has beautifully weaved people's life & emotions into a narrative. On a personal note, I would recommend the book to be a must read for all as each story touches the human soul!
---
This book review is written as part of the Blogchatter Book Review Program. For the month of September, I am taking my blog to the next level with Blogchatter's #MyFriendAlexa.