Book Name: Traces and Memoirs: Stories of You and Me
Author: Chinmayee Gayatree Sahu 
Genre: Fiction
Format: Paperback/Kindle
Language: English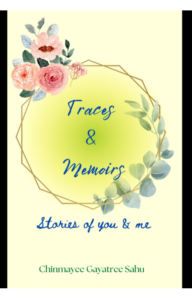 Book Blurb
We feel, we emote, we react & we respond to events that happen to us. And we all do it in different ways! But one thing is common, that is, we all go through waves of emotions, layers of sentiments & phases of sensations that make us humane! How else would we experience life otherwise? The Book titled 'Traces & Memoirs: Stories of You & Me' is a collection of stories that showcases such myriad reflections. Twenty-six fictional stories have been arranged like pearls in a garland, where the emotions are arranged in alphabetical order & where the protagonists make choices that impact their life.
Indulge yourself in the chapters of this book and who knows, you might meet yourself too!
My thoughts on the book
The individual stories in the book take you through varied emotions. Each as different as chalk and cheese! You could relate with the characters and at some point, one of the stories could have been about you or people around you. Each story ends in a one-liner thought which summarizes the emotions of the story.
The story covers less spoken topics like adoption & divorce, which are still a hush thing in today's world. Or, there is a sensitive issue like child abuse being spoken about. Not to forget, the mental health & depression are also central line that you get to experience through the character's life.
Few of my favorite stories from the book would be –
Adopted Happiness – With the lesson that Anger might be a façade for the need of love.
Nightmarish Narratives – It talks about nervousness.
Point of View – Patience would be the key take away from it.
The stories are short and in a simple language which makes it an easy read. With all the disconnected chapters you can pick them at your own will and you would still feel connected to the book. The stories are relatable and you would surely feel the surge of emotions as you walk through each chapter. Each choice, however insignificant, has an impact on your course of life. Some stories are hard hitting.
As a reader, I felt that few stories had similar emotions being portrayed by different characters. A chapter or two could have been split into two and both would have been a lovely addition to the read.
Overall, its a good book and would make you feel humane. If you are looking for next short story collection, then would be a good pick.
My Book rating: 3.5/5
---
"This book review for "Traces and Memoirs: Stories of You and Me " a book by Chinmayee Gayatree Sahu   is powered by Blogchatter Book Review Program" . I had read a kindle version available on Amazon.