'A dream you dream alone is only a dream. A dream you dream together is reality.' -Yoko Ono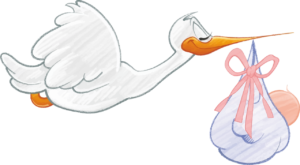 Natasha has always believed in this quote, for together you can achieve the world. Last few days had been spent in a jiffy. Both Ananth and Natasha spoke about their feelings. How and when did they start craving for a child. Discussions revolved around who will change baby's soiled diapers or who will feed the baby at night. From being unsure to eagerly waiting for having a child – they had both matured quickly!
13 February, Early morning
'Ananth wake up! Ananth get up!'
There was no need for a second reminder and Ananth was up before Natasha could speak another word. He did not need any verbal confirmation from his wife, cause her face was a mirror to her heart's true emotion. He could see the twinkle in her eyes and her lips curved into a shy smile. His heart knew no bounds as he rose up from the bed and hugged his wife. He was about to pick her up and break into an impromptu dance session then & there. But, he abruptly stopped.
'What happened Ananth? You stopped suddenly. You are going to be a father. I am pregnant!', Natasha spoke in a soft voice trying to hold back her tears of joy.
'Not you, We are pregnant!And from now on no more dances and jumping around. You need to rest & stay safe. No more running Natasha and no more heavy lifting allowed', Ananth continued speaking in the same breath without a pause.
'You will always be cheesy Mr. Ananth. The pregnancy test is positive but we still need to visit a doctor and get the blood tests done.', Natasha replied as her tears turned to a chuckle.
'I am already on it Madam Nats!' and Ananth walks out of the room dialing the doctor's clinic for appointment. Both of them took the day off from their offices & visited the doctor's clinic, who advised them blood tests to check for pregnancy confirmation and other vital minerals/ vitamins.
'You can collect the blood test report tomorrow.' , spoke the doctor and gave them a general list of do's & dont's.
14 February, Valentine's Day
Natasha did not have any important engagements in the office, so she was working from home. Ananth will be collecting the blood test reports in the noon and head to home soon after that. They had decided not to tell anyone else about the pregnancy for few days & wanted to cherish this moment together for some time.
It was difficult for Natasha to stop herself from telling her mother about it. But she waited. As soon as she heard the car stop outside the house, she rushed to open the door. She stopped only after Ananth gave her an annoying look and instructed her in a stern voice, ' Nats, you are now taking care of two. Running & hopping is a strict no-no'. They planned to celebrate the special day with a romantic dinner at their favorite restaurant.
The day of love became dearer for them as the blood tests had confirmed her pregnancy and their dream came true!
————- To be Contd.————–
I am participating in #AtoZChallenge and this is the fourth part of 26 chapter series that I will be writing this month. You can read my theme reveal here. Tune in tomorrow to read how they celebrate their special day & much more.
Do share your thoughts about this post. Did you like what you read & would like to read further? Looking forward to your thoughts. Happy A2Zing!