Who could have imagined losing all that you have in same night? My house is gone, my family is missing and my hotel is destroyed. I have lived in the same city all my life, and never has such destruction hit us. Life is unpredictable.
Few hours before…
Till yesterday, I had a loving family with kids, grandchildren and my dog, Bruno. Morning walk with friends, managing hotel in the day and evening playtime with grandchildren. But, today I am all alone!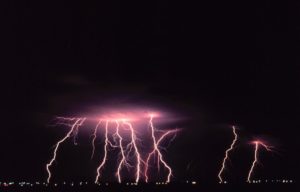 A dark and heavy storm had suddenly taken over the neighborhood, dropping 6 feet of water so quickly that the storm drains could not handle it. The water had flooded my street and my basement, ruining many of my things. As I was rummaging through the ruins, I only found my granddaughter's favorite teddy and my son's broken laptop.
The weather department had predicted a storm coming, but we were all caught unaware about its intensity. The clouds had burst open and the sky was pouring down heavily. The river had reached the danger mark, that's when the water started entering the city limits.
The lightning stuck my hotel and my business is burnt down. Thankfully, it was closed for the day and had no customers. I vividly remember the first day when construction had started. It had been my lifelong dream and came true after my retirement. The only reminder left of my business is this neon sign which is still standing tall with flickering lights.
This was not enough and I had worst news waiting for me. My son had gone to pick up my grandkids from school, when his car drifted away in the heavy water. Along with him were his kids and wife. No one knows their whereabouts yet.
A single day has turned my life upside down and left me broken & alone.
---
I am participating in the Write Tribe Festival of Words – June 2018. Today's prompt was a picture prompt and creative using – A dark and heavy storm suddenly takes over your neighborhood, dropping 6 feet of water so quickly that the storm drains can't handle it. The water flooded your street and your basement, ruining many of your things. As you rummage through your stuff, you are filled with memories. Think about your…