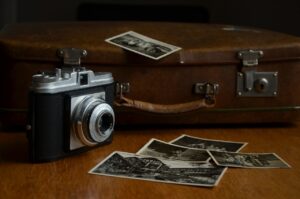 She was cleaning out the closet and looking for a suitcase to take on the trip. Instead, what she found was memories waiting to be explored. The photographs that fell out from the suitcase opened the closed doors & the bittersweet memories came rushing through. They were a reminiscence of who she was!
Those were the simpler times, the school would shut down for three months in a row as the snow covered everything in sight. Weeks before that would be spent in stocking the pantry and getting enough woods to last the winters. Her father and brother would go into the nearby woods in search of the broken wood and collect as much as possible. Many a times, she would accompany them and run around wildly, catching the sight of a rabbit or a deer.
The family house over the hills with slanting roof top, the winters spent by the fireplace or playing with the snow in the yard. The aroma of freshly cooked meal rising from the kitchen chimney filled the surrounding air & left everyone hungry. Her favorite part of the meal was the blueberry cheesecake prepared by her aunt. All the kids would fight over who gets the second piece.
December was her favorite month, for this was the month of celebration. The uncle with a perfect round belly in the red suit who would give out gifts. One Christmas, she had wished for a unicorn and she had got a white horse indeed! Maybe Father Santa mixed up her gift with someone else. Atleast, she could ride the horse along with her cousins.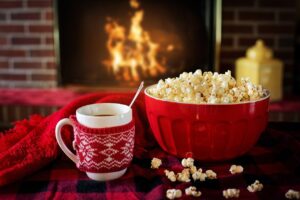 After dinner, grandma Judy would round up all the children near the fireplace & share the anecdotes from her life. They were all fasinated by the stories she told of how her grandfather had fought the Giants and build this house with the help of fairies from the forest. And, the story time was accompanied with occasional hot chocolate and the popcorn.
Her thoughts were broken by the sound of her four year old singing, 'Gaadi Bula Rahi hai, Seeti Baja Rahi hai'….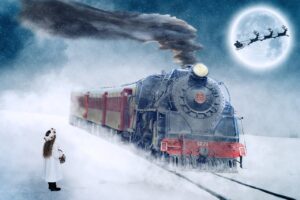 After all, the little one was excited to spend his winter vacation in the home that her mother loved dearly. He would be staying with his grandparents for the first time in Christmas and was looking forward to all the fun. Natasha realized it was getting late in the night and they had to catch an early train. It was time to recreate all these memories and capture them in photographs with her child too!
---
This post is a part of #ALPxGUN BlogHop #BollyExpress hosted by Alpana and PraGun and sponsored by – Unorthodoxpeeps, RangPotli, ExploreKidsWorld, SoulfulFood and, Praggatti Rao