[feedzy-rss feeds="http://themeisle.com/feed" feed_title="yes" refresh="12_hours" sort="date_desc" meta="yes" summary="yes" thumb="yes" ]The door opened with a thud as she tried to enter her home and walked straight to the bedroom. Her eyes were red, puffy and had under bags. She did not have much time before she had to reach office. Her friends often questioned her sanity and the choices she made.
She often wondered why did she always end up staying out late. One too many nights in a row, she has been unable to sleep properly. Deep in heart she knew the answer to why she behaved like this. It gave her adrenaline rush, which no other drug can ever provide. Maybe it was the only thing that provided solace to her heart.
It is a feeling of intense of craving which she cannot resist. All of her time and resources are spent finding ways to fulfill her desires. She is always on look out for people who are as crazy as her about helping other. She is addicted to work for betterment of underprivileged people in the society.
All these cold nights of December, she has been out giving blankets to homeless people. Bringing them food, warm drinks  and other necessities to make their nights bearable. And, she could never repay the happy smiles and blessings she gets in return of her noble act.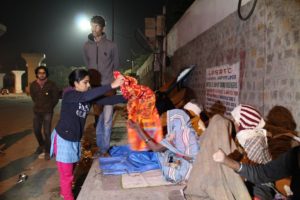 ---
This post is my Day 1 post for #Barathon 2018 and prompt for the day is 'One too many'.