A baby is born perfect – the tiny little fingers trying to grasp the objects, the little feet ready to explore the world and the soft, supple skin unaware of the harsh chemicals. With our little one's sensitive skin, we prefer to use as natural products as possible. A mother always wants the safest option for her child. And, Mother Sparsh is doing just the same by launching of unscented 99% water-based wipes for sensitive skin type.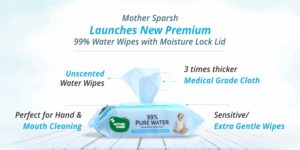 Reasons to use newly launched Mother Sparsh Unscented 99% Water-based Baby Wipes
Softer Fabric – 

Mother Sparsh unveiled its new premium water wipes which comes with an altogether unscented new feature and featuring medical grade cloth. The USP of the product lies in the soft fabric, which is extracted from plants and their pulp. It is 100% bio degradable. Safe for the baby and safe for the environment too! 
Chemical free – 

Mother Sparsh wipes are true to its name. It is 99% water-based wipes with plant-based fabric. These wipes are alcohol/paraben free and devoid of any polyester. It can be used for cleaning mouths and hands too. Making it as safe as a mother's touch!
Unscented Wipes –

A child's skin is very sensitive and even slightest deviation from natural products can create allergy. Mother Sparsh wipes come unscented and devoid of any fragrance. Thus, making it perfectly safe for your new-born.
Thickness

– Poop time is a messy affair. And, the normal tissues tend to be very fragile and thin, which makes them inefficient. Mother Sparsh wipes are made from plants and the pulp. Hence it is three times thicker than the usual baby wipes. Making it convenient to use and cost-effective too.

Moisture Lock Lid – 

We are all familiar with the sticker on the wipe packet, which stop working after sometime. And, the wipes lose their moisture. The Mother Sparsh wipes come in an advanced packaging with a moisture lock. The plastic lid locks the moisture, preventing the wipes from getting dry. The wipes last longer.
          

Clinically tested –

 As parents, we always want to use safer products for our kids. Mother Sparsh wipes have been dermatologically tested. It is clinically examined for infections and rashes and proven to be safe for kids. It adds an extra layer of assurance us to use clinically tested products for our child.
Before using these wipes for my kid, I had tried it myself. The wipes are true to what they claim. It had apt thickness which saved me from using multiple wipes for a single cleaning. And, the lid at the top preserved moisture for long-term usage. Mother Sparsh wipes deliver a complete safe and natural cleansing solution. It is Mommy tested and Baby approved! 🙂
The wipes are easily available in the market ding stores of Delhi & Tamil Nadu or can be bought online through Amazon and Flipkart. It is priced at Rs. 299 for a pack of 72 wipes.
Have you tried the newly launched Mother Sparsh wipes yet? What did you like the most about these wipes? Do share your thoughts with us in comment section! 🙂