8th February, 6:30 am
'Natasha, open the door.'
'Natasha, you have been inside for last 10 minutes. I am worried sick now. Come out!', exclaimed Ananth while banging on the bathroom door.
The bathroom door opens with a jerk, as Natasha walks out stomping her feet. 'So are we going to office today or should I apply for a leave?', asked Ananth.
'And what for do you need a leave. Ananth, stop fooling around and go ahead with your day as planned', replied Natasha as she moved towards kitchen.
'Honey, are you okay? I get that the pregnancy test result was negative. But don't be upset. It's not that we are planning anything now.' Ananth moves forward to hug his wife and plant a kiss on her forehead.
Natasha shrugs off & ends the conversation as she knew that Ananth was right!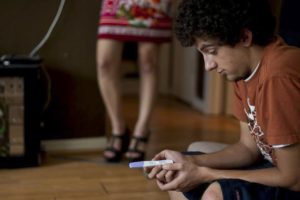 They both need to focus on their careers and establish themselves. They have never had a serious discussion about having a child. It does not fit their plan. Then, why is she feeling so low. Why was she upset when the pregnancy kit had shown only a faint line?  She has spent hours since morning researching on the internet. A faint line can be a false negative or positive, the test remains inconclusive. Was she secretly hoping for it to be positive?
There were so many thoughts running through her mind whole day. She could not focus on her work and left office early with a resolution to clear things with Ananth.
Ananth also had an equally uneasy day at work. He was unsure of whether he had seen Natasha wiping off tears when she walked out of bathroom in the morning. He was bemused and bewildered when Natasha had told him to bring home pregnancy kit last night. He had felt his head would explode with too many thoughts at the same time. By the end of the day, he had decided what he wanted and would tell it clearly to Natasha. If Natasha disagrees with his reasoning then they will have to find a workaround.
————- To be Contd.————–
I am participating in #AtoZChallenge and this is the second part of 26 chapter series that I will be writing this month. You can read my theme reveal here. Tune in tomorrow to read what they both want from their lives. Are they both going to agree or disagree with each other?
Do share your thoughts about this post. Did you like what you read & would like to read further? Looking forward to your thoughts. Happy A2Zing!