30 June,2015 5:00 p.m.
Ananth could reach home only by 5:00 p.m., by then it was late to reach airport in time. They had missed their flight. Natasha was furious at Ananth and unwilling to talk.
'Why did you even go to office? You could have logged in from home and work. I don't even get to go to a vacation now.', Natasha spoke as she bursts into tears.
'Nats, it's all right. We can take a vacation even now and we will. I will make this up to you!' Ananth was clueless as the rains had created havoc in the city. The weekend was spend in making refunds for all the bookings. His surprise may not have worked out, but his mind was racing to make other definite plans.
Natasha was upset for days and did not talk to him. Ananth was persistent in his efforts and finally convinced Natasha for a long weekend holiday.
After many restless nights, this time Ananth made sure that they went for a beach holiday.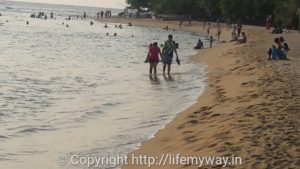 ——-To be contd.——–
I am participating in #AtoZChallenge and this is seventeenth part of the series that I will be writing this month. You can read my theme reveal here. Tune in tomorrow to read what future holds for them.
Do share your thoughts about this post. Did you like what you read & would like to read further? Looking forward to your thoughts. Happy A2Zing!