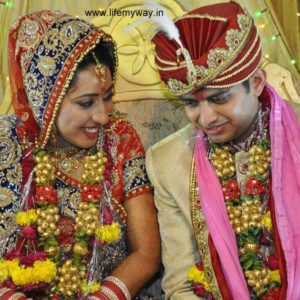 You and I – are poles apart. We are like parallel lines that never meet but stay together till infinity. For I am the chaos & you are the calm. You are the cool breeze & I can be the thunderstorm. You are compassionate & I can be indifferent. You & I are different, yet fate brought us together.
You are the early bird & I am the night owl. You believe in quiet dates & I like the party nights. You love the sunrise and I can watch sunsets for days at end. You plan ahead, but I can be impromptu. You stay quiet and I am a restless soul. You are the yin to my yang!
Remember our first date? The summer heat of Delhi and those CP by lanes! Probably not a good idea for dating. Or our honeymoon trip which was blown away by the cyclone. With us together things tend to take a dangerous turn! Maybe this is God's way to add adventure to our lives. 🙂
And, how can I forget the couple fights that we have & the tantrums we throw at each other. A bystander would consider us to enemies, but then we know how to manage. We can both be stubborn but our love makes us agree to each other's choices. Together we have learnt to be more tolerant & accepting. Together we have outgrown our inhibitions and agreed to explore a little more of other's territory. Like, I have learnt to eat certain green vegetables which otherwise would have never happened. 😉
I might not make breakfast for you every morning or you do not shower me with surprise gifts on all our special dates. I can be a cleanliness maniac & you would leave dirty laundry around the house! Even with all our differences, we fit together perfectly like pieces of puzzle.
For the words may fail you, but I will remember how you took care of me when I had suffered from food infection within months of our marriage. With no family around and away from all my friends in Bangalore, you had held me, stayed awake all night to monitor my health. That's a different story that next day you also became a victim of same infection. Taking care of each other in that moment, I had realized that we are together for sickness and in health for eternity!
Our's might not be the perfect fairy tale, but with you it's different… 🙂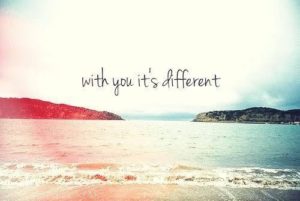 What is your love story? Are you both alike or different? Do share your relationship secrets with us in the comment section.
---
This post is a part of the Valentine's Day blog train hosted by Prerna and Vartika, sponsored by ShilpSa, Kalpavriksha farms & Neha from @bloggingmadeeasier.
I am written post by including two prompts – Opposites attract, great minds think alike – what type of couple are you and a picture prompt -"With you it's different".