Time and again, time has been my friend. Yet, time and again I thought of it as my enemy. The last decade had made the time go slow in moments when I wanted it to fly & it has been faster when I want to hold onto it. When I think about it today, the decade was gone in a blink. Let me take you down the memory lane, hope you will find yourself too!
यारों दोस्ती बड़ी ही हसीन है
ये ना हो तो क्या फिर
बोलो ये ज़िंदगी है
कोई तो हो राज़दार
बेगरज़ तेरा हो यार
कोई तो हो राज़दार…
How many of us would have grown up with this song? The beginning of the decade was the end of college for me. Nostalgic about leaving my friends behind, yet excited about the journey I was about to begin. I might not talk to each of them now, but looking back at those moments surely brings a smile on my face! It was also the time, when I moved out of my hometown and have become a visitor now. Long back I had written a post on mixed feelings about leaving home & it still holds true!
I had written my first blog post in 2010 too.When I look back it seems silly to have started blogging a decade back and then to stop writing at all. My love for north-eastern states also began when I was in Guwahati for my induction.
Year 2011, brought me to the second city I love, Mumbai. This city that has shaped me into who I am today. Juggling between job and taking care of the house, managing finances and learning to cook! Too many first time events happened in this year. Best of all, I learnt to chop onions. 😉
Corporate world is a mysterious place, instead of frineds you get colleagues. Spening 9 hours in front of the Box can make you feel like a robot & actions become automated. Someday, there will be a breakthrough and colleagues become like family. Touchwood, I found a small bunch who are like family. We have shared sorrow and happiness.(Most sorrow in our job happens around the appraisal times. :P)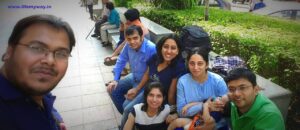 Near the mid of decade, my status changed from Ms. to Mrs. and then I moved cities again. Moving to the city of microbrewries, was amazing experience. Weekends spent exploring different food joints so much that I wrote a post about it too. Bangalore and its lakes are beautiful. But, why would anyone make an airport at a distance that feels like visting a different city?
Calendar changed to 2016 and I started blogging again and attended my first bloggers meet too. This time I was determined to pursue my passion without a break. And, thankfully I am still able to do so…Time to move again and we were enjoying the chilly winters of the North. Back to be near home & to enter motherhood surrounded by my family. 🙂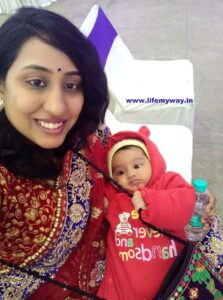 For now, I am back to where my journey began a decade ago – Mumbai. The little one keeps me occupied when I am not working. Professionally, I have grown over the years. I am no more the novice who would jump to conclusions quickly. Words like, root casual analysis, escalations, UAT, status calls, production deployment are part of daily jargon. And, even my two year old recongnizes few of them. 😀
Lessons that I learnt from last decade – 
Be ready to explore out of your comfortzone.
Travelling makes you grow as a person. I took solo trips and travelled with family. All this has given me a wider view of the outside world.
Forgive yourself & to be content.
For a happier professional life, adapt with the changing times. Continue the thirst for knowledge.
And, to write,read & continue blogging. 😊
How did the last decade treat you? You might have lost few relationships & also gained new in return. If you find yourself lost, then remember that a new decade is a new beginning and you can write your own destiny.
---
"This post is a part of 'DECADE Blog Hop' #DecadeHop organised by #RRxMM Rashi Roy and Manas Mukul. The Event is sponsored by Glo and co-sponsored by Beyond The Box, Wedding Clap, The Colaba Store and Sanity Daily in association with authors Piyusha Vir and Richa S Mukherjee"