'Do not sit with others.'
'You cannot enter the temple'.
'Do not touch the pickle'.
'You cannot sleep besides your husband'.
These words might not mean much to many of us. But, ask a girl who is told this every month for throughout her lifetime. She is given a list of do's and don'ts to be followed for whenever she is menstruating.
Across the world, different cultures have stigmas attached with periods. The women are confined to a single room in-house. In some cases, even shunned outside villages to live in sheds for 'that time of the month'. They live in unhygienic conditions and without a proper diet when it is utmost needed.
Some consider the women to be impure and it is a sin for these women to touch any men while on periods. It is improper to talk about periods with male members of the family. When will we realize that this ill-treatment should stop? Rather than neglect, a women needs extra care while menstruating.  It is time that we spoke about it and educate the masses.
Menstruation is medically defined as,
"The process in a woman of discharging blood and other material from the lining of the uterus at intervals of about one lunar month from puberty until the menopause, except during pregnancy."
Thus, it is a natural bodily function which proves that a girl/women is healthy. And, there is nothing to be ashamed about. Studies also suggest that it eliminates excess iron, which can be a risk factor for cardiovascular disease.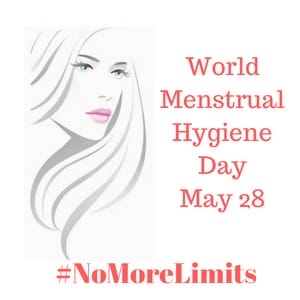 Steps to spread awareness
Educating children, both girls and boys, about the periods at an early age to help them understand it.
Identify the areas and conduct street play, talk shows in those areas.
Correct the people who joke about the 'PMS' and educate them about the real symptoms like, headache, backache, nausea, cramping,etc.
Adapt the culture where the start of menstrual cycle for a girl is celebrated rather than looked down.
Government policies should be introduced for manufacturing safe and hygienic menstrual products.
Easy and affordable access for these products to be available to all the women in the country.
Most importantly, we should reject the stigma/taboos attached with menstrual cycles and stop shaming girls for it.
This World Menstrual Hygiene Day (May 28), our endeavor is to break the taboo that engulfs this natural phenomenon that is the basis of very existence of human life on earth. This post is a part of a Blog Train hosted by Anupriya of www.mommytincture.com where 14 wonderful ladies have stepped forward to express themselves this #MenstrualHygieneDay and stress on the fact that there are #NoMoreLimits for a woman.
I would like to thank Monica  for introducing me. She shares her thoughts about motherhood journey and life in general through her blog- http://www.mommavya.wordpress.com.
And, also I would like to take this opportunity to introduce Sharvari. She is a recruitment consultant and blogs about Fashion Food and Parenting. Originally from Aamchi Mumbai but living in Melbourne Australia since 2007. Her blog is https://www.mumbai2melbourne.com.
But wait there's more! You stand a chance to win a DEA Corp Menstrual Cup worth Rs. 2500/-. You just have to visit http://www.mommytincture.com/2018/05/27/menstrual-cups-boon-menstrual-hygiene/ and leave a comment about your #NoMoreLimits experience.