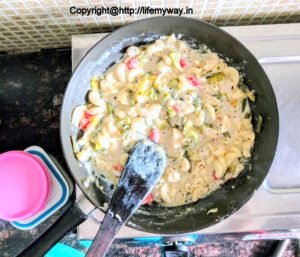 'Life is not worth living if I cannot have pasta or bread again.' Monica Seles
Who can resist the creamy, cheesy textured, delectable pasta? If there is one thing that I can eat 24*7, its Pasta. After spending tonnes of hours & energy in search of good pasta at a restaurant, I decided to make it on my own. And, it turned out to be pretty good.
Ingredients
Butter – Two tablespoons
Olive Oil
Maida or Wheat flour – Two tablespoons
Milk – Two cups
Pasta – Two cups
Onion
Garlic
Add-on vegetables like red or yellow capsicum,mushroom, broccoli, corn.
Recipe for White Sauce Pasta –
Boil two cups of pasta & set it aside to cool.
Finely chop the onions, garlic & vegetables of your choice and saute them in olive oil. Add a pinch of salt, oregano & basil leaves for taste.
Heat two tablespoon butter in a pan and add Maida to it. Stir the mix on low flame till it turns light brown.
Add two cups of milk in the pan. Keep stirring to avoid lump formation.
Add salt to the mix & simmer for 3 minutes until a consistent creamy layer is formed.
Add the boiled pasta & sautéed vegetables to the pan. Mix well.
White Sauce Pasta is cooked and ready to be served.
Additional tips –
Add few drops of olive oil to water while boiling Pasta. It helps to avoid sticky pasta.
For a healthier choice, prefer Wheat over Maida for preparing sauce. Wheat sauce may require more amount of milk.
Do not add all the milk in one go, add milk in intervals & stir continuously to avoid lumps.
Side dishes –
It can be enjoyed alongside bread of your choice. Or,if you are like me, then you might also enjoy a bowl of soup or grilled vegetables to go with it.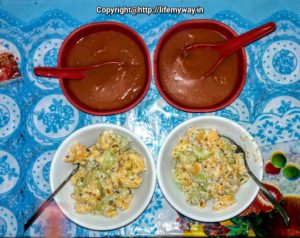 Hope you liked this quick recipe of pasta. Do you prefer white sauce pasta or red sauce? Do share your own recipes with me & I would love to try them.
Note- *This article is written as a part of #SuperBloggerChallenge2018 conducted by Healthwealthbridge.com ,Fashionablefoodz.com, Allaboutthewoman.com and should not be repurposed, republished or used otherwise. The content herein is owned by the blogger. SuperBloggerChallenge2018 is not responsible for any kind of infringement caused*