Delhi
The Indian Culture train now arrives at the capital city of Delhi. Delhi has a special status in India, called as National Capital Territory of Delhi. And, Delhi along with neighboring cities of Haryana & Uttar Pradesh forms the National Capital Region(NCR).
Culture of Delhi
Delhi is an  amalgamation of people from all across India with each following their own practices. Be it Holi, Diwali, Lohri, Eid or Christmas – they are all celebrated with same enthusiasm. I have lived there for sometime now and you will easily fall in love with the place. Fondly it is referred to as 'Dilwalo ki Delhi' (Delhi of people with big hearts).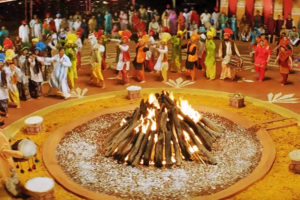 Food
The rich diet of Delhites is a mixed bag of Punjabi, Mughlai and in recent times the global cuisines. Chole Bhature, Butter Chicken or Idli Sambar, you can see people enjoying all together. Special mention to Parathe vali gali or the Shawarma kebab. 🙂
Architectural Marvel
Delhi has many places marked as World Heritage Sites.  The Indo-Persian architecure of Jama Masjid or the Gurudwara Bandla Sahib showing the Punjabi influence. If you want to experience India, then there is no better place than Delhi to get a glimpse. 🙂
Have you ever lived in Delhi? What is your favorite part of Delhi?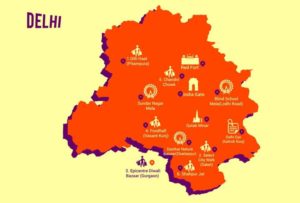 ---
This is the fifth part of the Indian Culture Diary for #A2ZChallenge. Join us tomorrow to explore another part of India.