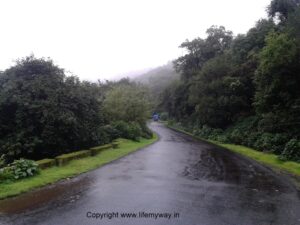 Come rains and we all secretly wish for holidays reminiscing the rainy day holidays of the school time. The thundering clouds pouring down continuously on Earth bring immense joy to our hearts. Petrichor captures your heart and soul. As we grew into working professionals, we look forward to weekends to enjoy the monsoon. And, living near Mumbai has added advantage of enjoying hills and beaches alike. Below is the list of places which I love to visit around Mumbai each monsoon season.
Lonavala & Khandala –
The twin hill cities are located at the distance of approximately 80 kms from city of Mumbai are the perfect weekend escape. They are easily accessible by the Expressway and offer a plethora of things.
You can enjoy the view of  breathtaking sceneries of the Sahyadris clad with greenery. Or you can go trekking in Khandala. Other favorites are getting drenched in the numerous waterfalls in the hills. Or enjoy eating corn near Duke's Nose and Bhushi Dam.
And, do not forget to get your parcel of the Chikki from Lonavala, it is sweet made from jaggery, ground nuts and Ghee.
I have always enjoyed Lonavala for a one day short visit, but you can choose to stay here overnight.
Mahabaleshwar –
If you are planning for three day short stay, then Mahabaleshwar is the right place to be. The approximate distance from Mumbai is 280 kms. It is also the Strawberry Capital of India. The hill city is famous for its sunrise and sunset views.
You can also visit Table Land which is the second largest volcanic mountain plateau in Asia and a frequent location for shootings.
For history buffs, you can visit Kamalgad Fort and Mahabaleshwar Temple. The temple is built in South-India architectural style.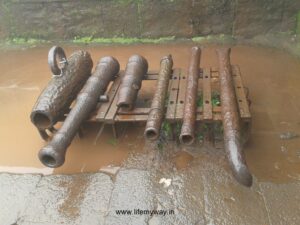 I had last visited it few years back and stayed there over a long weekend. My favorite part was visiting the Chocolate Factory located at Mapro Garden. 🙂
Malshej Ghat –
Malshej Ghat is located at nearly 130 kms from Mumbai and is famous for its breathtaking views of Western Ghats. The higher you go, the more clouds you can touch. 🙂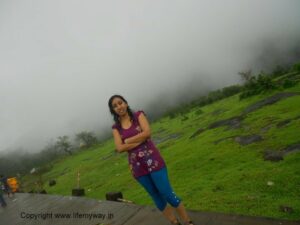 Monsoon makes it a favorite with migratory birds, and you can easily spot quails, rails, cranes, flamingos & cuckoos hear. I never spotted tigers or leopards here, but if you are lucky you can spot them too!
Matheran –
Does the idea of visiting the smallest and automobile free hill station sounds exciting to you? Then, Matheran is a must visit for you. It is declared as eco-sensitive region by the Government of India. Horse riding or on foot is the way to go here!
The lush green trees provide you a comfortable trekking experience. The best thing to enjoy is the toy train ride from Neral to Matheran. It takes you through the tunnels and dense woods.
Beware the monkeys near Monkey Point, who will be ready to jump on any snacks visible to the eye. Even we had a monkey scare as it ran away after snatching snacks from one of my friends.
Karnala
The drive to Karnala during monsoons is a calming experience. You can also visit Karnala Bird Sanctuary or trek to the Karnala Fort.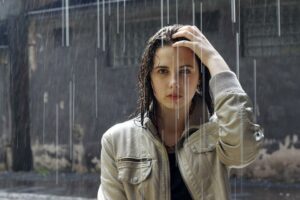 Hope you are ready with your raincoats and umbrellas to enjoy these weekend getaways. Are there any other places that you like to plan to visit this rainy season? Do share with us your favorite places and things to do in the comments.
---
This blog is a part of the #BirthdayBlogTrain hosted by Gunjan and Neha. I would like to thank Sonal for introducing me in the train. You can read her blog here. And, next I would welcome Mahak in the blog train, checkout her blog.