I have a love-love relationship with food where I love savoring on different snacks everyday. One of these days, I had craving for cream rolls. And, not just any ordinary cream roll, I had the urge to make them at home. It will sound crazier if I tell you that there are three bakeries just outside my society to relish cream roll.
Without much thought, I searched for all the ingredients available at home.
Ingredients –
Maida flour (Finely milled wheat flour) – 250 gm for 4-5 servings

Whipped Cream / Fresh cream

Icing Sugar

Salt, as per taste

Cooking oil
Recipe for roll –
Knead the dough from Maida flour. Add 1 teaspoon cooking oil & pinch of salt to the dough preparation.

Divide the dough into 4-5 smaller balls.

Flatten the balls with help of rolling-pin in circular shape.

Cut the flattened dough vertically in stripes.

Cream roll preparation

Prepare cylindrical rolls from aluminium foil that will be used for grilling purposes.

Start placing each stripes one after the other on the aluminium foil roll.

Mix 1 tablespoon of Maida floor with water to prepare a paste.

Gently rub small amount of paste along the edges all over the roll to keep them from falling apart.

Grill it in microwave/ oven at 220°C till the roll turns light brown in color.

Grill the roll

Cool down the roll for sometime & crunchy rolls are ready.

Crunchy rolls

 Recipe for cream –
You can use whipped cream available in the market as a filling.




                 

Or follow below steps,
Place chilled fresh cream in a bowl.

Add icing sugar and vanilla essence to it.

Whisk the mixture till the volume reduces and soft peaks are formed.

Put the whipped cream in refrigerator to cool it.

Chilled whipped cream
Final Step
Add the cream to the prepared roll and serve it fresh. 🙂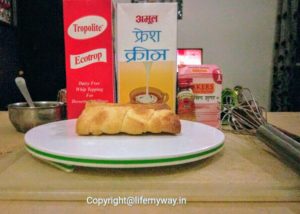 The preparation is time taking process and definitely worth it.
Do you like cream rolls? Do share your thoughts on the recipe. What other snacks are your favorite? If you liked the post, let us know by commenting & sharing. 🙂
I am taking my blog to next level with #MyFriendAlexa with BlogChatter.