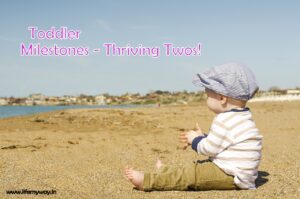 How often have you heard parents talking about terrible twos? The toddler tantrums can be terrible times, but there are ways to manage them. A child at two years is exploring the environment & learns to exercise his control over things. As a mother to a toddler, I am sharing the tips that I follow to help my child with his development milestones.

Language development
Children learn to speak when we talk to them. Pointing to an object & describing it is the best approach to help with language development. I have observed with my child that he knows few words, would speak them for few days & then stop saying it. We started repeating such words more into our conversation & he is back to picking up the language. Story telling is another important tool for language development.
The children at this age should be able to understand basic commands & respond to it. They can have up to 50 words in their vocabulary & will try to connect words into sentences. They will still continue to communicate via signs & actions. If you are worried that your child is a late talker then consulting the paediatrician is advisable.
Tantrum troubleshooting
Two years old enjoy their new found freedom. They might pick up a wrong word or throw a fit when their demand is not fulfilled. A child crying in the middle of a shopping arena is a sight we have all witnessed & are very well familiar with. How do you deal with it?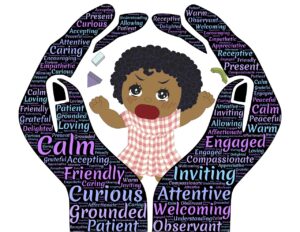 Remove the object which is the cause of the tantrum.
If the object cannot be moved, like in a shop, move away from the place which has distraction.
Talk to your child in a soft voice & help them understand what is wrong. If need arises, then ignore the unwanted behavior.
At times ignorance is a blessing in disguise.
A few times, telling my child not to do something has resulted in the repetitive behavior. In such situation not reacting & ignoring has worked well for me. Does it work for you?
Maintain consistency of routine
Children love when they can predict what's coming next. Having a routine set for the day helps them. Have a timetable set for meal times & nap time. It does not mean that you do not experiment.
Experiment by including variations in the meal options. Introduce at least one food item every week or fortnightly. For play time, include new activities like finger painting or free play slowly. Rushing through things leaves them confused. As my kid grows I also plan to introduce him to geometris patterns to improve fine motor skills.
As an eager parent, I had bought a whole set of new books for my son. Giving him too many options left us not using any of the books completely. He would begin with one book & rush to the next in few minutes. Removing too many books and selecting best baby books made the reading time fun again! 🙂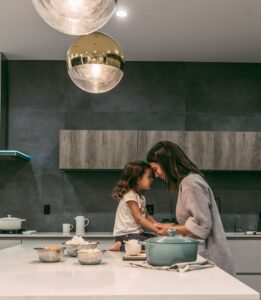 Involve them in daily chores
My son loves to help us in the daily chores. Cleaning the table after meal times or helping with carrying soiled utensils. He also likes to help with hanging up the laundry to dry. Each small act gives him immense joy. His eyes sparkle when we respond by Thank You for his help.
Keeping the child involved with household activities, makes them responsible. It gives them a sense of belonging and achievement. Praise them for their help & you will notice the difference!
Kids turn two only once & as parents we should make the most of it. Soon they will grow big, start the school and then life happens. We should call it Thriving Twos & not terrible twos!
What tips & tricks do you follow to keep your child engaged? Are there any other suggestions which can help fellow parents, then do share with us in comments.
---
I am taking my blog to the next level with Blogchatter's #MyFriendAlexa. You can read my last post hereFictional Characters That Inspire Me!.
(Disclaimer – This post is written after extensive research & personal experience and should not be treated as medical advice.)
I am learning how to grow my blog with Neha from Bloggingmadeeasier.com. In case if you are interested – Learn how to grow your blog here . In this learn how to grow your blog will link to this post https://bloggingmadeeasier.com/grow-your-blog-challenge-fu…/