'Nu…Nu…Aapi Nu' (Nu…Nu…himself Nu), that's what my son keeps repeating in an endless mode nowadays. One month before turning two, my son named himself "Nu". Of all the names Mumma gave him, he picked up this, simple and easy to pronounce. The kiddo teaches me something new every day. From being persistent & passionate, to be kind & loving, he knows it all.
He brings out the kid in me & I love being in high spirits. He is carefree & fearless. Nothing stops him from exploring the big adventure called world. He falls & gets up, shedding a tear or two & then he is back to his happy place. And, with him I am relearning to accept risks and not to be limited by any mental blockade.
The kiddo gets happy laughing at small things like popping a bubble wrap, or opening up a new package. He enjoys small things like watching cars from the balcony, or running after the birds. I realized that I had stopped enjoying the small moments like these. With him I take a step back & make more memories. Now, we both get excited at the birds flying outside the window or jumping up and down on the bed. 😀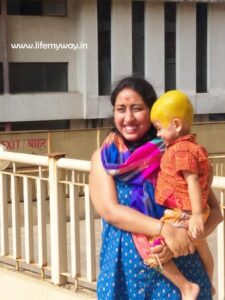 The optimism of a kid rubs at everyone around them & I am no exception. The little kiddo looks at everything with a positive attitude and nothing is impossible for him. He is ready to jump off the bed without thinking about getting hurt. Because he trusts that I will catch him. And, his go-getter attitude also keeps me inspired to let go off my inhibitions!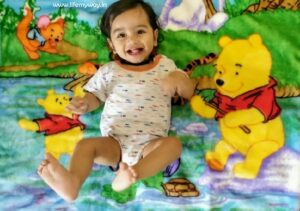 The best of all is his ability to love unconditionally. A child's heart knows no bounds. I might get angry at him for being too careless or creating a mess. But he always comes back with his cuddles & kisses. A small hug melts my heart. He does not care if mom is in her pyjamas or dressed to party. With him in my life, I am now more open to accepting the person with their flaws. 🙂
Not a day goes by, when he does not surprise me and teaches me a thing or two. There is so much more that I can write, but then let me stop for now. Have your kids inspired you in one way or another? After all, the child is the father of the man! 🙂
---
This post is written as part of the Children's Day blog train hosted by the blogger duo, Prerna & Varitka www.prernawahi.com and www.vartikasdiary.com".