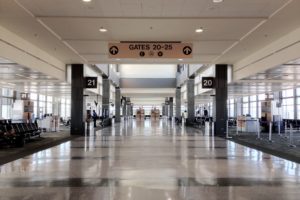 ---
"All international departures are from Terminal 1", reminded my roommate for the hundredth time.
"I know, I will reach on time. Don't worry", I replied.
"Suhani, you need to stop being a mother hen for all your friends. Go out, shop & party! Make a profile on Tinder at least now". These were my parting words to my roommate & best friend. Even as I joked she could sense my unsaid emotions. Afterall, she had stayed with me through thick & thin.
The journey to airport was uneventful. After completing all boarding formalities, I sat at the coffee shop with a book in my hand. There were so many thoughts racing through my mind. I am returning home after six years and forever this time.
Looks like yesterday when I had first landed on this terminal. You had bumped into me at the immigration counter, throwing my belongings all across the airport floor. You had just smiled. Again, at the taxi bay you had hopped into the cab that I was supposed to take. "Sorry, an emergency need to take the cab asap.", your first words to me. I should have known you were trouble!
First day at college & I caught your glimpse around the campus. My suspicion was confirmed when you became my student counsellor. Funny, how our fates were entwined. After the awkward first few days, we were quite comfortable with each other. Asking for your help around college to finding hotels when I was missing Indian food! You were my go-to person for all queries.
We had chatted all through my semester break spent at home. I remember the surprise proposal you had planned outside these terminal gates when I had returned from my vacation. "I love you munchkin", you were always a man of few words. Of Course, I had fallen for you too.
I remember all the flights we have taken together from this terminal. All the vacations or the trips back home have been with you. Remember the time when we had a huge fight and I had flown to my aunt's home for the holiday season.  
Before long, our parents were asking about our marriage plans. I was so nervous for the journey home to talk to my parents about us & you had been my rock. It was here when you had met my family for the first time. My dad was watching your every move & you had bravely faced him. This terminal has witnessed my laughter & my tears both.
Finally, months of negotiations with our families & they had accepted our relationship. We had travelled like cupid-struck-teenagers for our engagement. People at airport were staring at us, but we simply did not care.
I hated it when you got a job back home and had to leave this country before me. We were going to leave together. I don't like travelling alone! My thoughts were broken by the flight announcement.
"This is the final call for all passengers travelling on flight A14". Today, I am taking the final flight from this terminal to be home to get married to the love of my life. I am looking forward to our new journey together, our new jobs and plans to settle in our own country.
As I look back one last time, I know this terminal will always have a special place in my heart. 🙂
I am taking part in the Write Tribe Problogger October 2017 Blogging Challenge to #WriteBravely. This post is a figment of imagination and has no real life connections:)