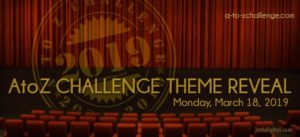 Come April and bloggers around the world, join the splendid journey of #A2Z. The bloggers write 26 posts throughout the month, one for each letter starting from A to Z. And, Sunday being break day.  I will be participating for the third time. The first year I wrote random posts without a theme. Last year, I tried my hands on fiction. This year is different!
Apart from blogging, I am passionate about travelling and exploring India. With travel I have learnt more about the culture, which I would not have know otherwise. Each travel gives me a reason to study and explore a new place and meet new people. This April, I will be writing posts on the culture & traditions of different states of India. 26 days dedicated to the culture of 29 states and 7 union territories – Indian Culture Diary!
Each day a short post would be up on my blog for a daily dose of Indian Culture. Hope to see you there!
Are you participating in #AtoZ? What is your theme for the month? Do share your thoughts in the comments.