If you ever visit Tamil Nadu, it's a must to witness sunrise at Kanyakumari. Day 1 of my trip was spent in sightseeing around Kanyakumari town. You can visit the previous post here.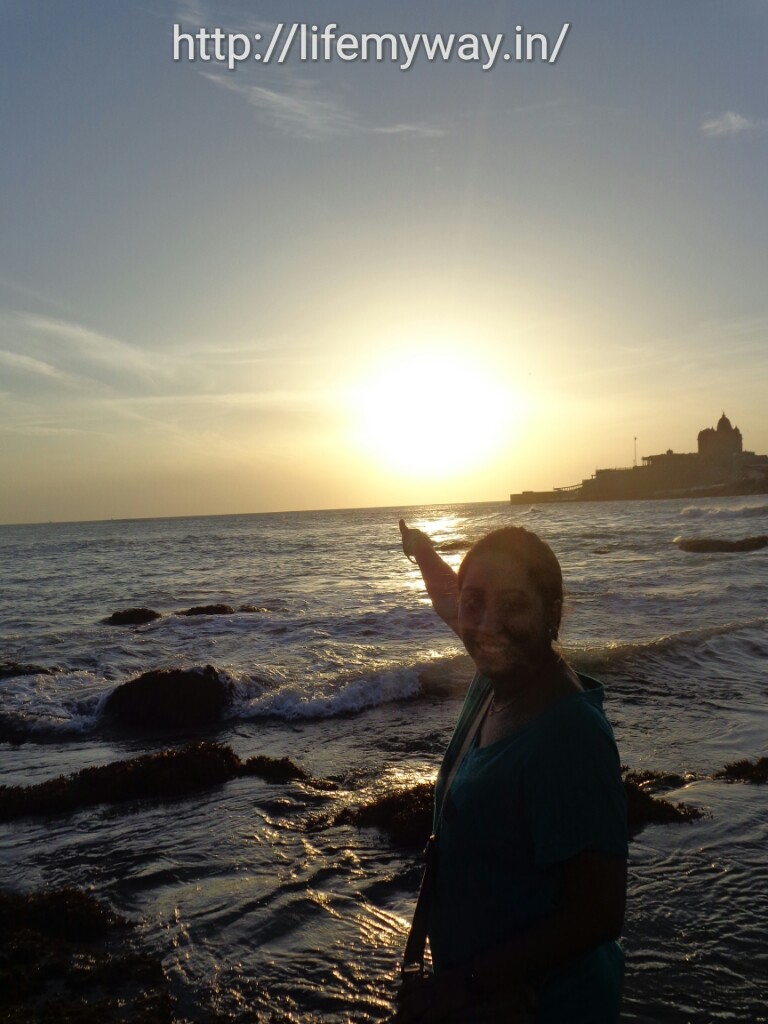 Day 2
We woke up early to enjoy the first ray of light adorning the sea. The bright hues falling over the sea & the soft sound of waves crashing over rocks form a rhythmic pattern.  And, if you don't reach here early you wont get a place to stand.
We had hired a cab for day tour. Enroute we stopped at Thanumalayan temple – Sthanumalayan Kovil located at Suchindram. The three supreme powers – Shiva,Vishnu & Brahma are worshipped as a single entity.It also has one of the tallest statues of Lord Hanuman in the same complex.
Next stop for the day was Padmanabhapuram Palace. The palace is made of wood & influenced by Chinese architecture. There are some interesting facts about the palace,like,
Room full of Chinese jars gifted to the King by chinese merchants.
Hall which could seat 1000 people at a time for feast
Clock which has been running for a very long time

At the palace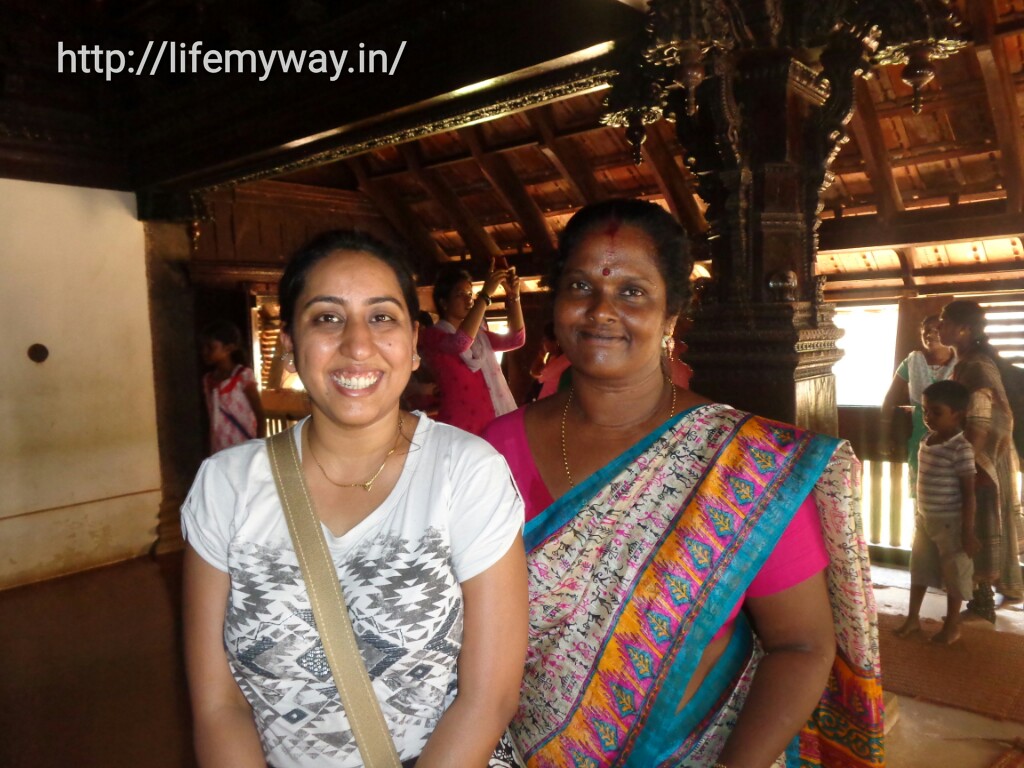 There are guides at equidistant who are lovely people to talk to & will tell you all the stories of the palace. It's here that I met a sweet lady Sri Lalitha & her smile was infectious. She was happy to see two crazy girls on a vacation alone & blessed us to keep living a happy life. That's the beauty of travelling – strangers that touch your heart.
There is another tourist spot nearby 'Poovar Islands', where you can enjoy boat ride through mangroves & backwaters. We had already visited similar places & decided to skip it.You can read about my experience of boating in mangroves here.
Trivandrum, Kerela 
Our journey moved further towards Trivandrum & we had a quick stop at Kovalam beach. The Leela Resort, Kovalam is the perfect stop to enjoy beach seats,sunbathe & play in the clear water.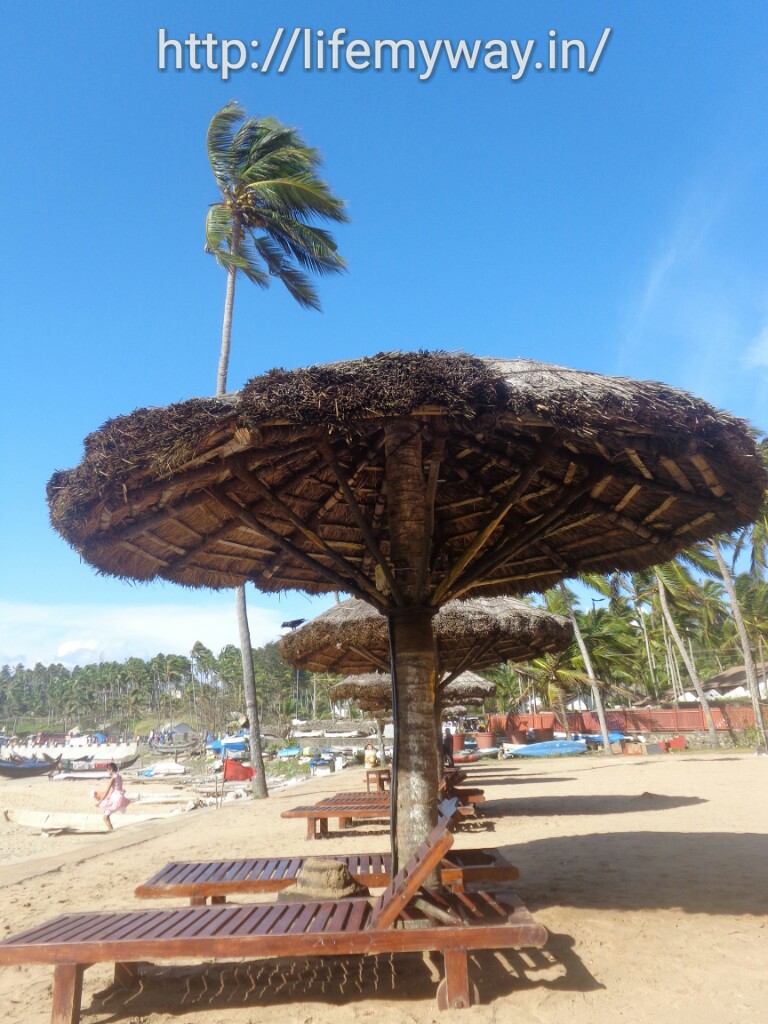 The final & most awaited part of the day was visiting Padmanabaswamy Temple.Temple is famous for its hidden treasures which make it one of the richest organizations. Words fail me in trying to describe this architectural marvel. The minute details can be observed in the carvings on the walls. This temple is dedicated to Lord Vishnu. There is strict dress code to be followed by devotees to enter temple premises & women need to wear saree. I had to buy saree from a nearby shop.All electronic items are to be submitted at counter.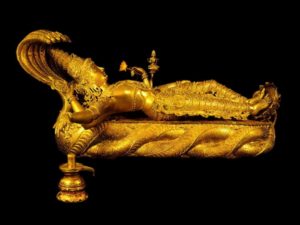 We were lucky to meet another devotee who enlightened us with legends associated with temple. He took us around the temple complex & told facts like how the butter applied on the Lord Hanuman statue never melts or the Statue of Natraja facing with feet pointed in opposite direction than usual. Unfortunately, we could not take a photo with him as no cameras are allowed inside. Are you aware of anymore interesting stories about the temple ? Do share it in comments !
The day was well spent & we returned to Nagercoil to spend the night in a lodge. I hope you enjoyed reading this post & stay tuned for the next part in the series.
I am taking part in the #DailyChatter challenge by Team Blog Chatter. If you like the post, then do like, share, subscribe & comment. 🙂